This model is UNPAINTED and UNASSEMBLED.
This model is made with ABS-L using 3D printing.
Click here to learn more about ABS-L material.
This model has 10 parts: chassis, turret , a pair of tracks, set of three track covers for left and right side.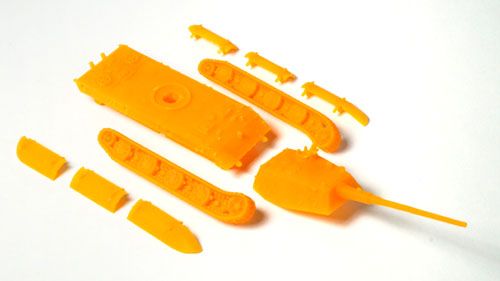 E 100 standard tank - In 1945, the German war machine initiated a development program (Entwicklung, or E) aimed at categorizing the development of AFVs in 5, 10, 25, 50, 75 and 100 ton weight brackets. The E 100 was the heaviest in the series and was developed at the same time as the Porsche Maus. Only the chassis of the prototype was discovered after the war which was evaluated by the British Army and then scrapped.
(Read more:http://en.wikipedia.org/wiki/Entwicklung_series)
This 1:144 Wehrmacht '46 E 100 Ausf B features a Tiger II styled turret with an 150mm or even 175mm gun and Infarot device for the commander. This turret design eliminated the "shot trap" present in the Porshe Maus design.

Painted Sample: