This vehicle is UNPAINTED and UNASSEMBLED.
This 1/144 WWII German Sd.Kfz 8 DB10 'Lufcik' model contains 4 parts, a chassis, undercarriage with tracks, hind door and a MG 42 with shield.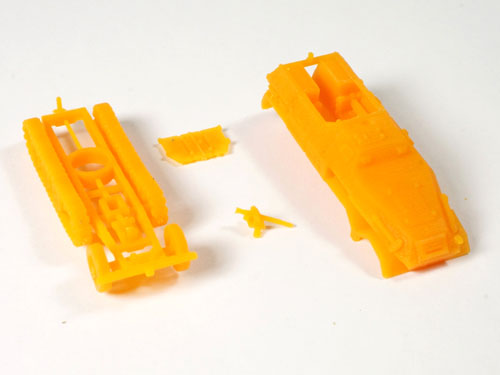 This model is made with ABS-L using 3D printing.
Click here to learn more about ABS-L material.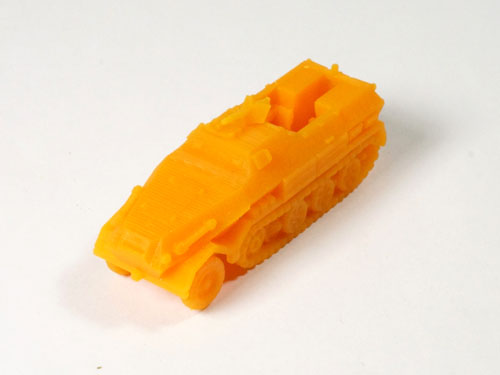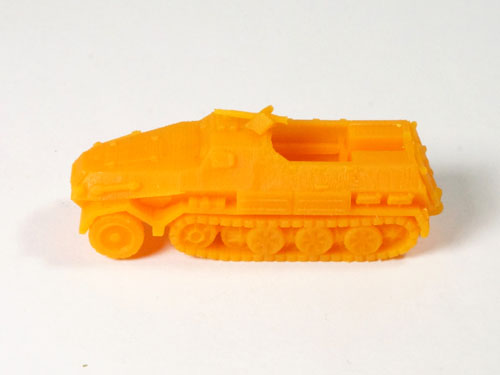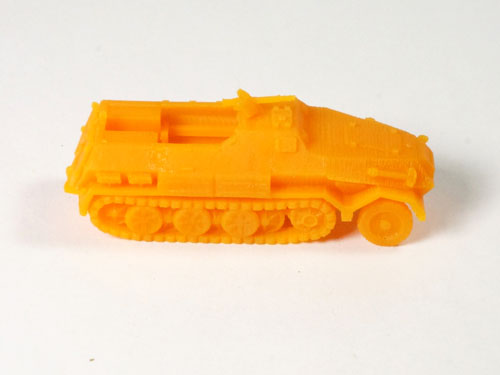 World Exclusive: Kampfgrupe144 one of the most globally recognized names in the 1/144 modelling and collecting community launches the Black Label Series.
The Black Label Series will seek to bring fresh and innovative miniatures to the collector by utilizing the latest design and production techniques available to 1/144
1/144 WWII German Sd.Kfz 8 DB10 'Lufcik'
Painted samples showing Game Grade material


The History
The history of this vehicle begins on January 18 1945 when it was lost while trying cross the Pilica river in Poland, becoming embedded in the sandy river bed. This vehicle is probably one of several prototypes of this variant of which the production has never been fully accounted for.While the history of the Sd.FKz 8 series dates back to 1934, the evolution and history of this particular variant is undocumented. It clearly shares a heritage of the Sd.Kfz 8 which was designed as a standard tractor chassis designed to town the 88mm Flak canon, this one however having alternative with an on the body with 12mm steel armour plates.This vehicle was of late war production and served on the Eastern Front with a Luftwaffe unit, probably tasked with providing AA Flak duties utilizing the mighty 88mm. Interestingly the original license plate WL 323863 was still with the vehicle and identifies it as Luftwaffe Vehicle, and differs to the license plate seen in other SDKFZ8 DB10 variants of this type).The first attempt to extract this from the river in 1957 by Polish Military Engineers in 1957 was unsuccessful, it's not clear if the vehicle suffered further damage as a result of this action?In 1999 a group of Military Enthusiast were able to extract the 18-ton Vehicle and reconstruction was completed in 2003. The engine was further renovated and the vehicle was able to move under its own power by 2005. It was during this restoration process that the vehicle acquired its nickname of "Lufcik".
The Vehicle
Crew: 2+11
Dimensions:
Length: 7500 mm
Width: 2450 mm
Height : 2500 mm
Armour Thickness: 12 mm
Vehicle weight:18 000 kg
Road Speed 45 km / h
Armament:
2 x 7.92 calibre light machine guns: MG 34 and MG 42
Powered by:
Maybach HL 85 TUKRM 8.5L 12-cylinder water-cooled petrol 185 ]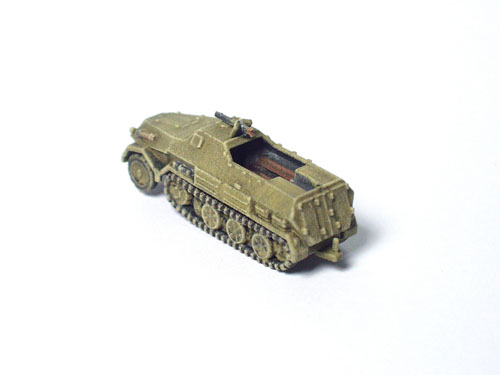 Fact or Fiction?
Although only one of these beasts have been found it is thought to have a short production run of 20 – 30 units in this configuration.
What we can see is that one unit has been recovered and restored in Poland and a small number of photographs exist of this item deployed in the field.
No further records have been discovered to reveal how many of these vehicles were completed, and it appears that this example is the only one to make it past the scrap merchant and into a museum.
This restored vehicle can be seen at the Pilica River Heritage Park in Tomaszow, Poland where you can actually ride as a passenger during the Summer Events!
Interestingly, the original Maybach engine was thought beyond economical repair, so it was to be replaced with a Russian Truck engine. However, on inspection it became evident that the later period Russian engine had very similar design to the Maybach engine (possibly a Soviet copy of the Maybach design) this allowed for an engine to be restored incorporate much of the original transmission and many other elements of the running gear...
MODEL FEATURES:
This miniature has a range of interesting and unique features
1.
Detailed Model
a.Detailed Exteriors, including MG.42
b.Detailed Chassis and Running gear
c.Detailed interior with drivers and crew compartment
2.
Compatible with KG144 & CGD towing hook systems
(will hook up PAK-43 etc...)
3.
Digitally mastered and produced using state of the art 3D printing technology.
4.
Made with strong and flexible nylon material, extremely durable.
To learn more about the material or painting go here.
5.
Individually hand painted and weathered.
Reference:
http://skansenpilicy.pl/galeria.php?id=1
http://www.youtube.com/watch?v=74ooSwRVrXE
This product will be equally at home on your gaming table, in your display cabinet, or on your workbench.

DESIGN
This item has been sourced from high quality plans and has been remodelled using the latest 3D CAD modelling processes and many cycles of quality reviews and revision to ensure the most accurate representation possible in the scale. Every effort has been made to present the purest of design, while striving to employ innovative features and configuration options within the practicalities of the 1/144 scale.
DESIGN TEAM
This miniature is uniquely produced through the collaboration of a specially assembled team, using skilled and reputable subject matter experts available in this dynamic and exciting area of 3D miniature production.
The mission of the team is to ensure that the highest possible standards of research, design, manufacturing and finishing are employed in the development of the miniature supplied.