This vehicle is fully painted in Dunkelgelb scheme. Weathered and minor assembling required.
This model comes with a movable anchoring spade. A set of three cable arrangements to assemble the vehicle in traveling mode, 40 ton extraction mode and 80 ton extraction mode. A spare cable holder is also provided in case the modeller wish to make his own cable arrangements.

| | | |
| --- | --- | --- |
| 1 | | Cable in travel mode |
| 2 | | Cable in 80 ton extraction mode |
| 3 | | Cable in 40 ton extraction mode |
| 4 | | Spare cable holder |
1:144 German Berge Panzer E75 is modelled after the BergePanther, one of the best recovery vehicle, using the chassis of E75 standard tank. At the heart of the vehicle was a 40 ton winch of the BergePanther. On its own the vehicle could provide a 40 ton force to pull out bogged down medium tanks.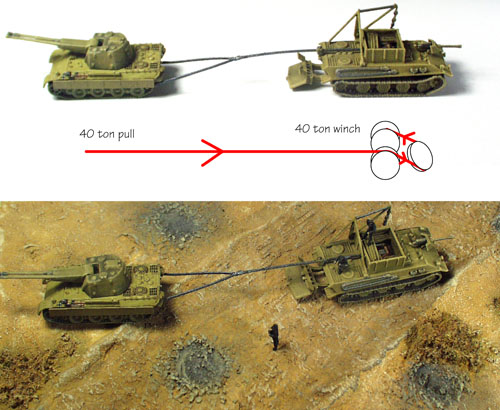 But using a simple block & tackle pulley system, the extraction force could be doubled to 80 ton, enough to pull out disabled heavy tanks. The first pulley of the block and tackle system was cleverly incorporated into the winch mechanism. Operator only required to attach a single pulley looping back the cable to the anchoring spade to complete the system.

The anchoring spade was of crucial importance in the operation. Without the spade digging deep into the ground, the Berge Panzer will be pulled towards the bogged vehicle instead.
When travelling, the winch cable could be used to hold the spade in a raised position.


The E75 chassis is longer than the Panther so the crew of 4 can be seated more comforably in front. As in the case of Berge Panther, two extra seats was provided behind the driver and co-driver but with the extra space the seats could afford protective armour and hatches.